Staple is a
soft developer

with offices in the small town of Setoda,
Hiroshima and the metropolitan hub of Nihonbashi, Tokyo.

Hard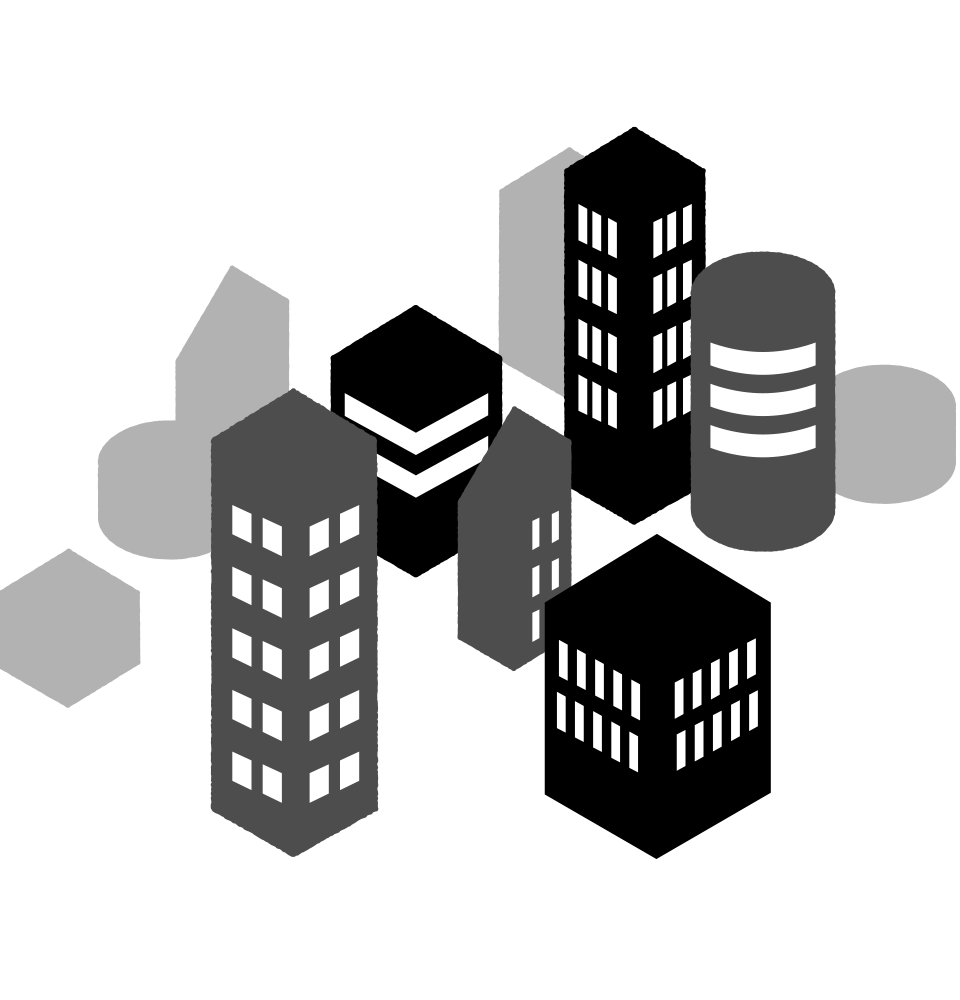 Soft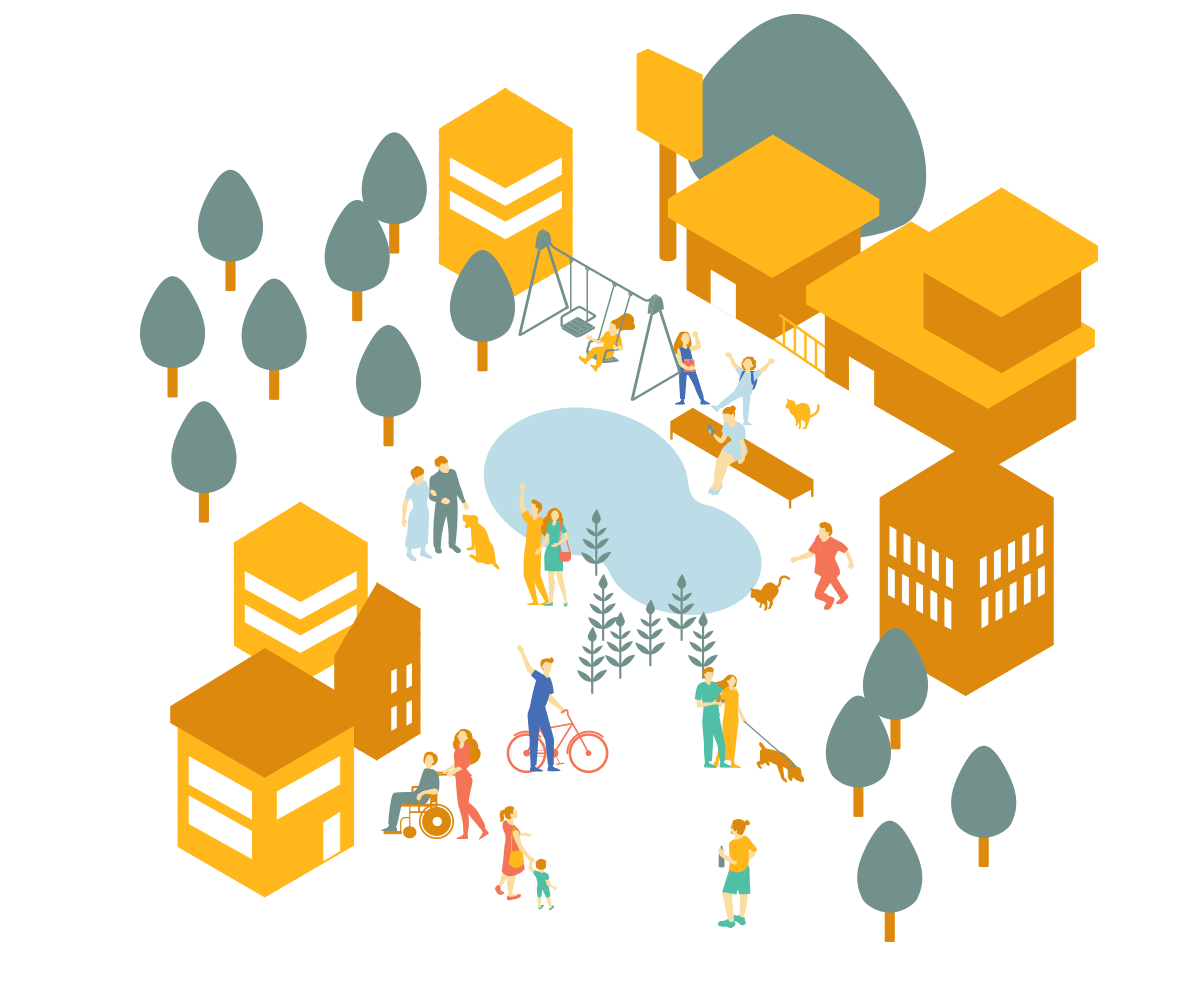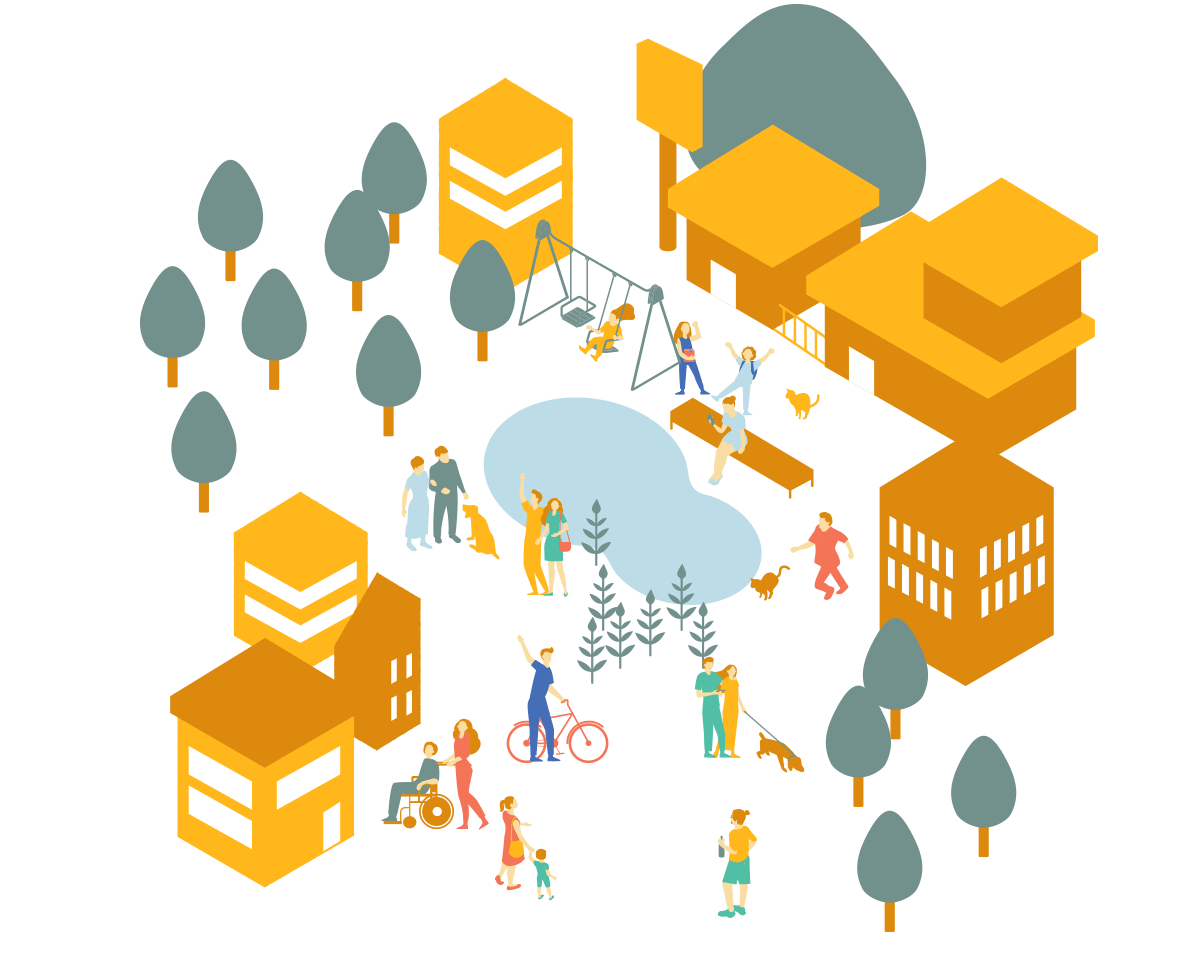 Our definition of 'soft' is something flexible, not concrete. We are people who think of people and the environments that they feel close to.
A soft approach is important in order to keep an openness towards diversity of ideas, culture, and living things. A developer supports the development of a place, a property, a people and their ideas. We believe that within development, value comes from fostering diversity and creating a sense of proximity between people and their ideas, their things, and each other.
Staple envisions a 'soft neighborhood' where one can have a visceral sense that they are an integral part of the place. When the farmer, the bicycle mechanic, the flower shop owner, the cook – each and every person thinks of each other and helps each other out when in need, feelings of warmth and consideration are abundant. The neighborhood as a whole effectively becomes an extension of one's living room, where anybody can feel a sense of ownership of the place itself.
On a brief walk, you bump into an acquaintance, and a conversation takes place.eighbors share their vegetables when they are overly abundant.When a young person leaves town for the next chapter of their life, they are dearly missed, and welcomed warm heartedly upon return. The common mantra that summer festivals are a burden may hold true, but everyone participates with joy and pride. At the bar on the corner, drinks are shared by long-time locals and first time visitors alike. When you have a new idea, the person next to you takes interest, and the person next to them provides insight. During gatherings, there is talk of the town's future and its liveability for the next generation.
The demographics of the town are in continuous flux, making for frequent unexpected encounters, each full of unique potential. A good town is one where you feel close to it in a way that is full of possibility and serendipity.Our idea of placemaking is defined by creating opportunities for locals and newcomers alike to learn, to work, and to express themselves.
Context
Our Mission
Urbanization has improved the economy and created opportunities for work and education in a positive way, but simultaneously has reminded us of the beauty of a simpler environment and lifestyle that is often only found outside the neighborhood.
The efficiency of urbanization often brings undesirable consequences such as separation of social classes, feelings of isolation, and overcrowding. In Japan, the advanced infrastructure and the convenience it brings is also available in the countryside, which holds much potential.
Staple reveals the opportunities and options outside of the neighborhood by focusing on placemaking with this potential in mind. If this potential is realized, then each and every region of Japan will thrive in a unique way, and continue to be worth exploring.
'New infrastructure' for 'New locals'
Staple does not consider people who happen to interact with a place into the typical duality of 'locals' and 'tourists'. In addition to 'original locals,' anyone who has some kind of relationship to a place can be thought of as a 'new local,' and even visitors and travelers should be thought of as 'potential locals.'
Whether the motivation is vacation or tourism, a visitor can become a new local, and over time the three types of locals will become a strong community. That unification is one of the most significant aspects of revitalization.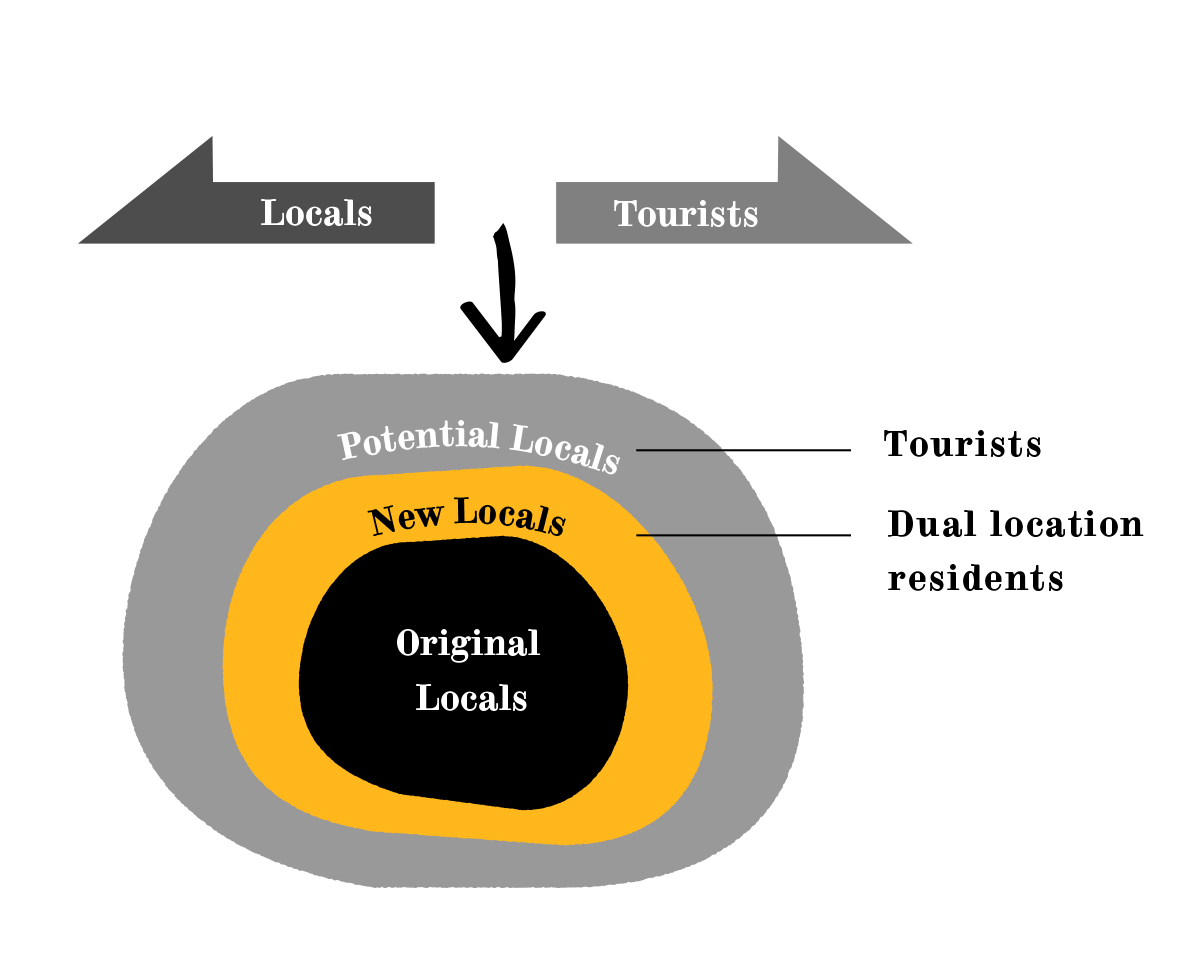 Create a new infrastructure that attracts new locals.
Make the neighborhood more livable for all three types of locals by developing dynamic new infrastructure.
Staple recognizes that the foundation for quality of life in any microcosm is the existence of soft but essential infrastructure such as schools and workspaces, the local bathhouse, coffee shops, and even simple vegetable stands. Developing this soft infrastructure allows people to live in a way whereby the local history, culture, land, and climate is reflected in all aspects of daily life. Methods of creating, producing, and consuming goods–and even energy–can all be clearly felt as tied specifically to that place.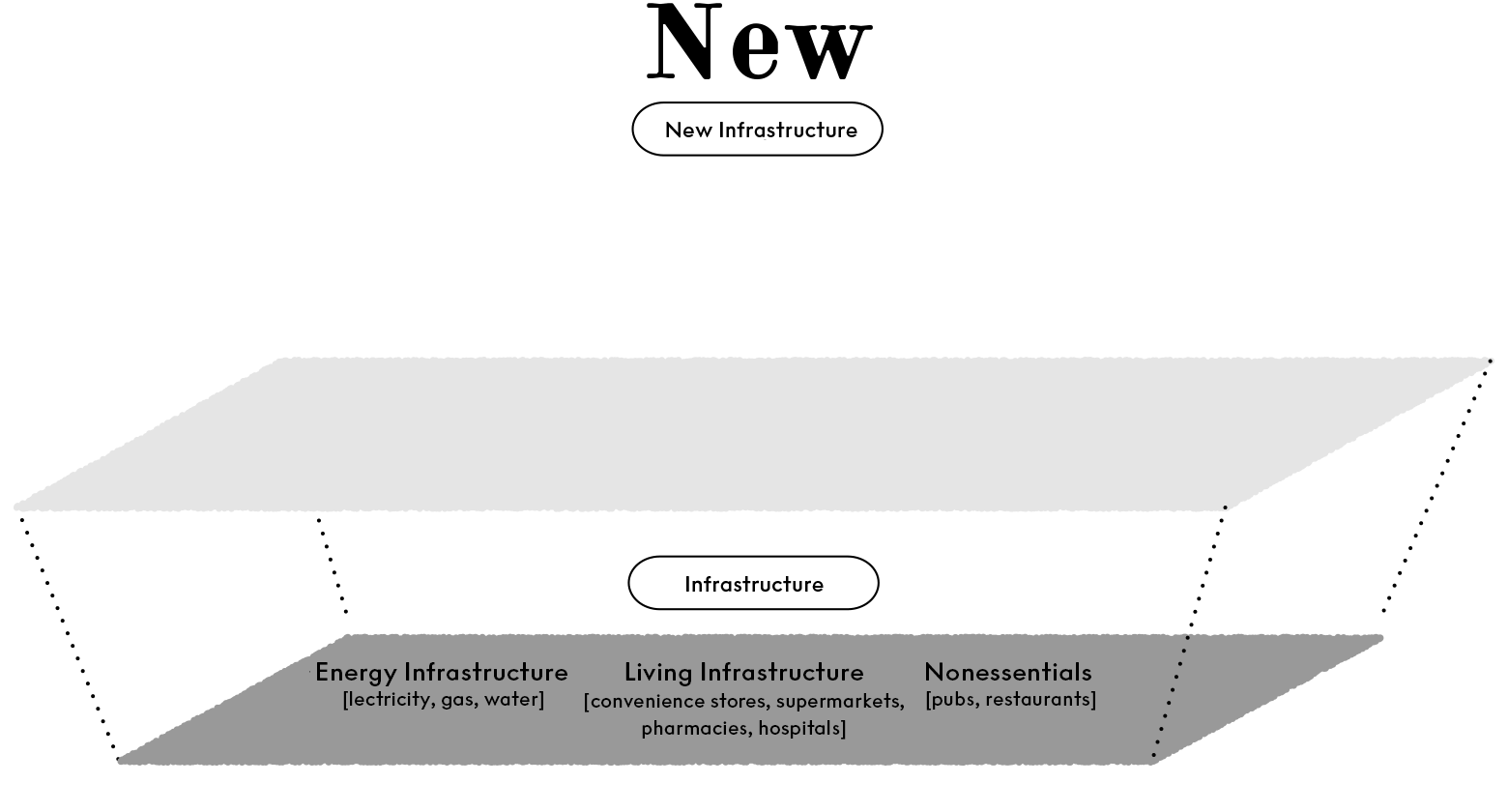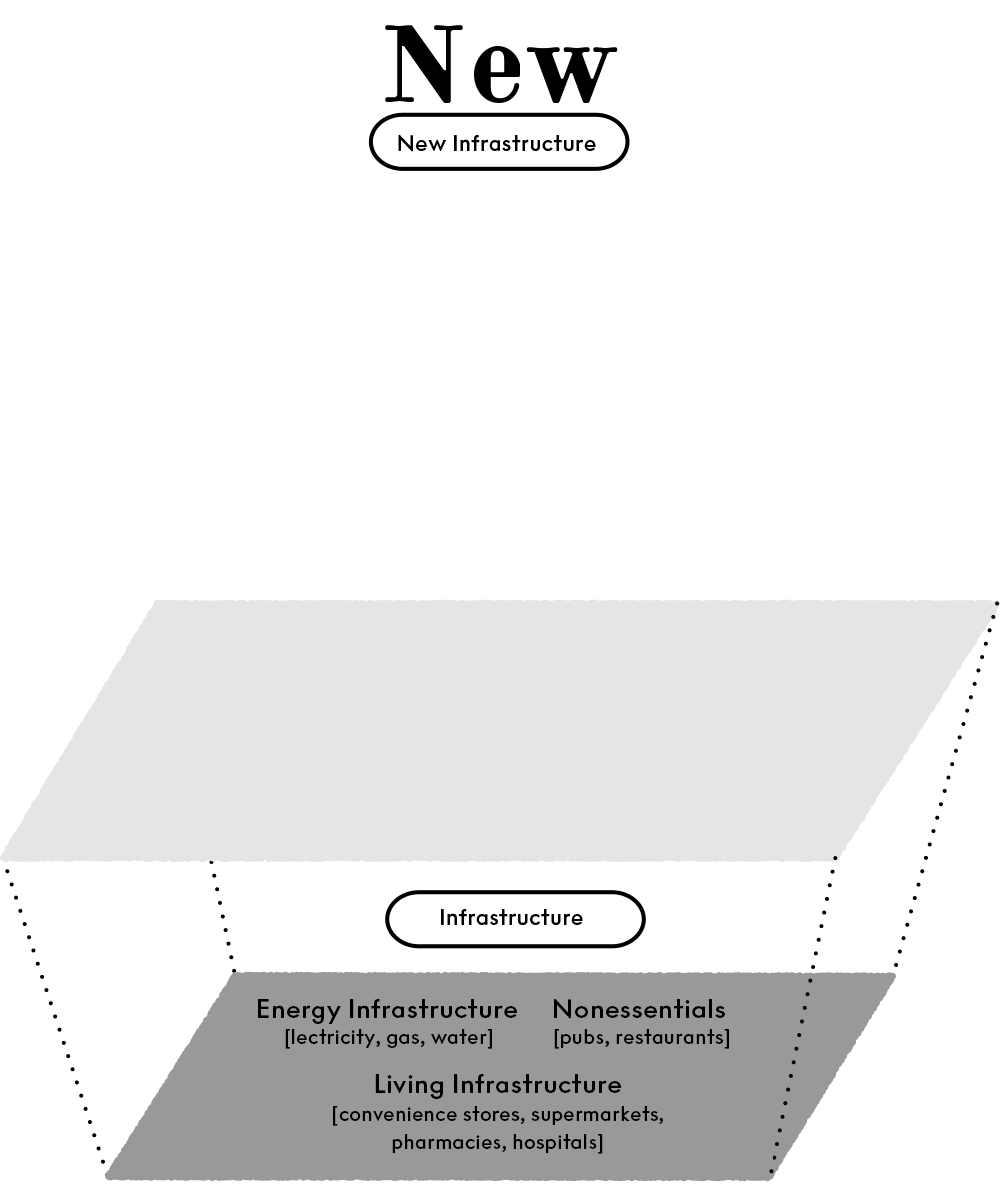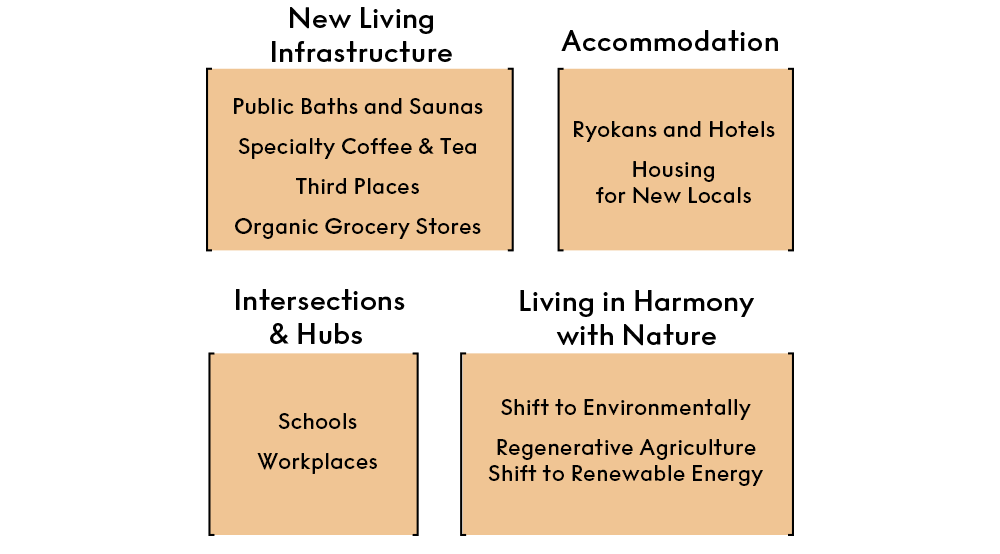 Scroll
今見える5つのアプローチ
Change is constant.Placemaking should leave room for organic change, making things accessible and participatory. Take time to grow close to the land and its community, and envision its future as a team.
Origin Cultivate the land's diversity and allow its breadth and depth to grow.

Creating a destination-worthy hotel or restaurant has the power to raise the value and recognition of the broader area's identity.
The addition of a facility that welcomes everyone and serves as 'the living room of the neighborhood,' heightens people's ability to live and work together. This space not only resembles a living room; it also becomes a hub for the 3 types of locals to come together, where camaraderie and a sense of belonging transpires. The depth and breadth of these relationships expands the neighborhood's capacity for meaningful growth.
Participatory placemaking builds civic pride

As a soft developer, Staple focuses on a neighborhood's future by considering how it might look in 50 years, rather than relying on previously demonstrated methods visible around the world. The future vision is and the plan for how to get there is developed in conjunction with the various locals of a place over many in depth discussions.
By sharing space and experiences, relationships are formed and a sense of civic pride grows. Over time, new mindsets contribute to a place's common identity.

Strong civic pride brings vitality to the neighborhood. Staple orchestrates and documents this process in order for it to build awareness and continue to spread further.
The practice and study of regional development on a human scale
情報のグローバルソーシングとマテリアルのローカルソーシング

Staple's idea of localization is not insular.

When materials, ingredients, and energy all come from the local environment, not only does the area become resilient, it also becomes known globally for its unique characteristics which cannot be found anywhere else in the world.

Staple aims to connect things locally and globally, creating places with products and services that are highly local while simultaneously being informed by global knowledge.

This approach renews the local sense of belonging and pride while also being open to outside influence and connection with other regions.

The key to maintaining this balance is to engage in constant communication with the local community and to understand the distinct qualities of the area in order to create new and unique places together.
運営を通して、その街に根付き、交流を広げ、日常を形成する

Interact with others. In turn, daily life will take on a new shape. Establishing a place within a neighborhood allows for roots to be laid. As they deepen and spread, we can help shape daily life. This process creates a framework for going forward. The key to this root system's expansion is daily care and consideration for these places. In turn, they become a part of the neighborhood's composition, reacting and adapting, growing more specific to that place and community over time. From the soil, the potential for new places and ideas to be realized is increased. More people are inspired in the area and attracted to come there, and the community becomes more tight knit and more diverse at the same time.
Basics
Company Name:
Staple Inc.
Board Directors:
CEO: Yuta Oka
Ryota Kobayashi
Yusuke Umeda
Number of Employees:
73
Founded:
November 5th, 2018
Capital Stock:
94.73 million yen